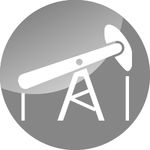 Scientists these days believe that the natural resources of oil and gas are not quite as finite as thus far assumed. These resources are likely to remain available considerably longer than hitherto predicted.
This is the reason why BD|SENSORS is one of only a few global companies that recognized a need for the development of accurate and robust instruments for the measurement of pressures in the field of oil and gas production - including traditional onshore and offshore drilling for and extraction of oil and also fracking.
Measuring pressures in pumps, drilling heads and sludge recirculation lines
Monitoring of process pressures in separators
Monitoring pressures and measuring flow in pipelines
Monitoring fill levels in storage vessels and tank

The electronic BD|SENSORS pressure measuring instruments in the field of oil and gas production have set standards in terms of
high pressures (up to 8 000 bar)
robust construction to withstand stresses of drilling, production or fracking in the most extreme operational and environmental conditions
reliability and long-term stability





All relevant products are certified safe and reliable under corresponding Standards such as SIL or UL. The materials used for enclosures and sensors render them eminently suitable for rough environments such as ocean climates, salt water or extreme temperatures. A turn-down function for adjustment of the nominal pressure range renders the products ideal for a wide field of applications.
nominal pressures up to 8 000 bar
fill heights from 1 m water column
pressure connections meeting international standards, e.g. Hammer Unions
instruments with turn-down function
protection classes IP65 to IP69K

CUSTOMIZED MEASUREMENT TECHNOLOGIES FOR OIL AND GAS INDUSTRY