Our Quality is your bonus for success!
DIN EN ISO 9001:2015
The highest possible quality is certified regularly. BD|SENSORS and its quality management always achieves this certification, as it did recently too.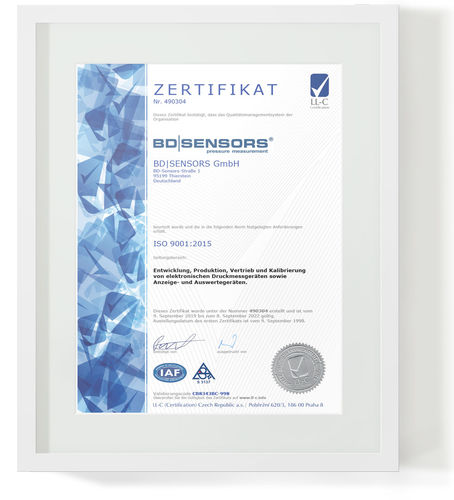 It's about no less than guaranteeing customer satisfaction. All processes and routines to be kept running smoothly within a company, between market coverage, understanding of the work, production, innovation and waste disposal are assessed from that perspective. That's what ISO 9001 stands for.
Customers need trustworthy and reliable partners, now and in the future. As technology, markets and customer needs are subject to changes it is self-evident that independent certification bodies only issue ISO 9001 certificates for a fixed time limit. Audits are run at great expense and effort, which is recognisable in that companies are methodically put to the test. This guarantees independent transparent results. Certification can only be assumed if effectiveness is apparent in all aspects of quality management. Just one guarantee for the crucial regular successful certification of BD|SENSORS lies in the sound expertise of our staff. Highly specialised personnel develop and realise customised solutions for customers from a whole range of industries on time.
BD|SENSORS' competence is reflected in its structured development, is underpinned by our clear processes and completed by on schedule assembly and delivery. You also receive quality and professionalism afterwards from our experienced sales staff and quick, uncomplicated service handling. Furthermore, the exclusive use of first-class quality purchased parts from our suppliers is indispensable for our company. Our aim is constant improvement of the highest standard.
DIN EN ISO 9001 for BD|SENSORS is the result.