This applies especially to instruments measuring relative pressures that cannot be hermetically sealed. But BD|SENSORS has developed a new type of filter element especially for these critical applications. The possibility of implementing several protection classes such as IP6x, IPx6, IPx7 and Ipx9K offers reliable and permanent protection from the ingress of media such as water, vapours or dust of relative pressure measuring instruments using this new filter element.

The testing procedures for IP69K and for IP6x / IPx6 / IPx7 were carried out in accordance with the DIN 40050 and DIN 60529 Standards respectively.
PROTECTION CLASS TESTING
• Testing for protection class IPx9K involved spraying the test specimen from a distance of 120 mm with 80 bar pressure and 80°C water temperature from four different angles (0°, 30°, 60°, 90°) for at least 30 seconds. The specimen was rotated through its own axis for this test.
• For protection classes IP6x, IPx6 and IPx7, the specimen was sprayed with water for 3 minutes, submerged in 1 m of water for 30 minutes and tested over 8 hours in a dust chamber.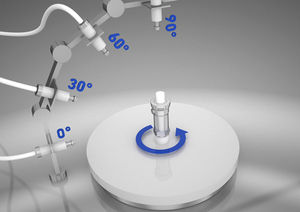 All tests were successful despite these stresses - neither water nor dust or moisture ingressed into the specimen. The demands for IP 6X, IPx6, IPx7 and IPx9K protection have thus been met.
This newly developed filter is available for various BD|SENSORS pressure measuring instruments. It now allows integrating relative pressure measuring instruments into applications exposed to critical environmental conditions that demand the above high protection classes.